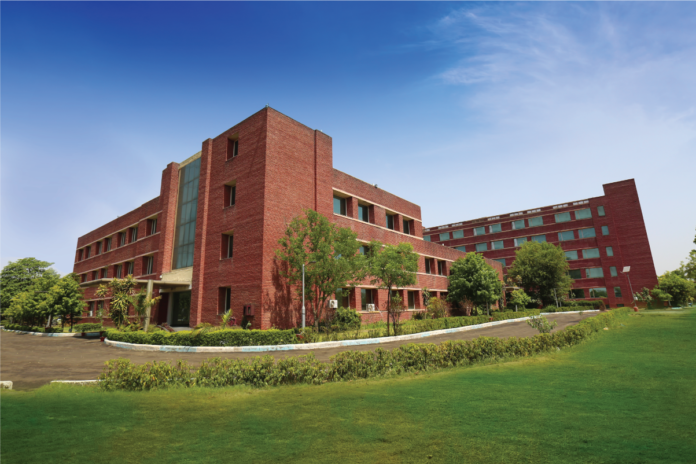 26/07/2022, Delhi NCR: – JK Business School (JKBS), a leading Industry anchored Business School in India, achieved a massive placement record for PGDM Batch of 2022. Altogether 96 firms participated in the final placement process, with the highest package rise to ₹18 lakh per annum. Whereas average and median salaries increased to 5.45 Lakhs and 5.00 Lakhs per annum respectively as compared to the last year. EY, KPMG, Nestle, Flipkart, Decathlon, Ameriprise Financial, Vodafone – Idea, Naukri.com, Berger Paints, Quintica Group (Dubai), JK Tech, Reliance Jio, Axis Bank, Citi Bank, IDFC First Bank have been some of the top recruiters that participated in the placement drive this year.
Two of the Fortune 500 companies, Nestle & KPMG and NSE listed Vodafone – Idea were some of the new recruiters this year. Though the season saw active participation from companies across domains, new age consulting firms took the biggest share. Big 4 recruited the maximum number of students. Banking, Logistics, FMCG, Recruitment Firms, Retail, IT, Telecom are some other sectors where students got placed. One of the biggest highlight of this years' recruitment is that JKBS is the college at the PAN India level from where e-commerce giant Flipkart hired maximum number of students.
JK Business School has a special Corporate Cell that strives to bring the best employment opportunities to its students by building strong bonds with top names in various industries. Before bringing students and the companies face to face, the students are provided a number of services to groom them for enhancing employability.
Prof. (Dr.) Richa Dahiya, Dean, JK Business School, "The PGDM program at JKBS prepares students for a rewarding career ahead. The program focuses majorly on working on real-time projects with industry professionals to give students firsthand experience of real-world scenarios and polish their tech-savviness." She further added, "Despite the turbulence caused by the global pandemic. The students of the batch 2022 achieved a stellar placement record." 
READ MORE – https://news.easyshiksha.com/ihub-data-at-iiit-hyderabad-invites-applications-for-ms-and-phd-fellowships/
The PGDM program of JK Business School (JKBS) is approved by the All India Council for Technical Education (AICTE), Ministry of HRD, Govt. The two years course focuses on subjects like Finance, Marketing, Human resources, Business Analytics, Digital Marketing & Analytics, Logistics, and Global Business. Apart from this, the course encompasses soft and hard modules like Placement Preparatory Program Communicative English, Outbound Team Building Program, Industry Interaction, Personality, and Soft Skills Development, Corporate Etiquettes, Entrepreneurship, Financial Planning for Young Investors, Six Sigma Certification, Project Management Skills, Digital Marketing.
About JK Business School
JK Business School (JKBS) is a member of the JK organization (one of the leading private sector groups in India) with a great history of contribution to Indian business through diverse industries and initiatives. The institute has a very talented team of faculty that includes both core & visiting. They come from Ivy League B Schools, Triple Crown Institutes, IIMs, IITs & more and have impressive industry understanding and exposure. JK Business School is ranked #7 among India's Top 10 private higher education institutions for Best Academia-Industry Alliance in the Education World India Higher Education Grand Jury Awards 2020-21. JKBS has ranked 23rd in Top Private B-Schools in India by Education world Ranking. Top 10 Best Global Institutes for Marketing Programs- The Knowledge Review. Top 38 Private Business School- Business World Ranking and 3rd rank – Top B-Schools of Eminence, GHRDC- CSR Ranking.
Visit https://easyshiksha.com/online_courses/ for learning new skills.