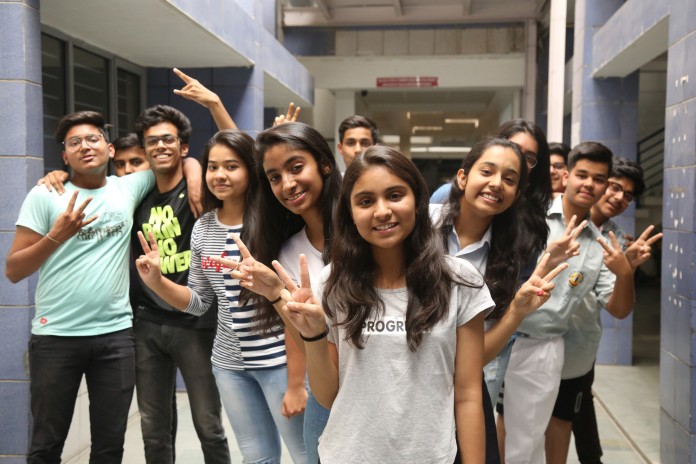 'A dream becomes a goal when action is taken towards its achievement' The road to success is not easy to navigate, but with commitment, passion and unremitting devotion one achieves triumph. Accomplishment is the result of perfection, hard work, allegiance and persistence which was proved true by the Blue bells by exhibiting an exemplary result in class X Board Examination.

Important Announcement – EasyShiksha has now started Online Internship Program "Ab India Sikhega Ghar Se"

The overjoyed students attributed their success to their effective planning, assiduous efforts in academics and the unflinching support of their parents and teachers. Dr. Saroj Suman Gulati, Director Blue Bells Group of Schools, Ms. Chandan Dhawan, Principal of the School, Management and teaching fraternity felicitated the students and showered their blessings for their future ventures.
Blue Bells Model School celebrates the outstanding result of its students in AISCE-2018
Blue Bells Model School Gurgaon Sector 4
No. of Students appeared: 182
No. of Students Passed: 182
Students securing above 95%: 22
Students securing above 90%: 85
No. of A1: 446
Total no. of distinctions: 885
Average Distinction: 4.86
Average Result: 85.39
Top Software Engineering Courses
School Toppers
Subject Toppers
| | | | |
| --- | --- | --- | --- |
| S.No | Subject | Marks | Student's Name |
|   | French | 100 | Soumya Jain |
|   | Science | 100 | Tanvi Pundir |
|   | Mathematics | 99 | Khyati Arora,Moksh Kalra,Manvi Sehrawat |
|   | Social Science | 99 | Tanvi Pundir,Tanya Almadi,Garvish ,Anshita Raghav,Ashish Singh,Shivesh Sumbly ,Chirag Nagpal,Ria Chopra |
|   | Information Technology | 99 | Rishabh Mathur,Angela Nasa,Anshika Goyal,Darpan Hans |
|   | Sanskrit | 99 | Divyanshi Sharma |
|   | English | 98 | Nikita Sahu,Bhumika Dembla,Ashish Singh,English |
|   | Hindi | 98 | Anshita Raghav,Kavya Nijhawan,Yuvraj Sridhar |
Students Securing 90% and above
| | | |
| --- | --- | --- |
| S.No. | Name | Per. |
| 1 | ASHISH SINGH | 98.2 |
| 2 | SOUMYA JAIN | 97.6 |
| 3 | MANVI SEHRAWAT | 97.4 |
| 4 | TANVI PUNDIR | 97.4 |
| 5 | ANSHIKA GOYAL | 97.2 |
| 6 | ANSHITA RAGHAV | 97 |
| 7 | NAMAN DUREJA | 96.6 |
| 8 | DEEPANSHU YADAV | 96.4 |
| 9 | DIVYANSHI SHARMA | 96.2 |
| 10 | NANDINI YADAV | 96.2 |
| 11 | AMAN MATHUR | 95.8 |
| 12 | GAURI TIWARI | 95.6 |
| 13 | RIYA CHOPRA | 95.6 |
| 14 | KHUSHI YADAV | 95.4 |
| 15 | NEHA TUTEJA | 95.4 |
| 16 | CHIRAG NAGPAL | 95.4 |
| 17 | GARVEESH | 95.2 |
| 18 | BHUMIKA DEMBLA | 95.2 |
| 19 | MANNAT ARORA | 95.2 |
| 20 | TANYA ALMADI | 95.2 |
| 21 | ANGELA NASSA | 95 |
| 22 | KARTIK DHANKAR | 95 |
| 23 | KAVYA NIJHAWAN | 94.6 |
| 24 | SHIVESH SUMBLY | 94.6 |
| 25 | PRATHAM SHARMA | 94.6 |
| 26 | KHYATI ARORA | 94.6 |
| 27 | VINEET ARORA | 94.4 |
| 28 | CHIRAG TANEJA | 94.2 |
| 29 | KAMYA VATS | 94.2 |
| 30 | YAGHIKA BENIWAL | 94.2 |
| 31 | DIYA SAINI | 94.2 |
| 32 | ADITYA GARG | 94 |
| 33 | ASHISH KAKKAR | 94 |
| 34 | JYOTENDRA SINGH KHARAYAT | 94 |
| 35 | MILIND CHAUHAN | 94 |
| 36 | SHIVANGI SOOD | 94 |
| 37 | PARTH | 93.8 |
| 38 | AMISHI MITTAL | 93.8 |
| 39 | RUHANI RAWAL | 93.8 |
| 40 | DARPAN HANS | 93.8 |
| 41 | MOKSH KALRA | 93.8 |
| 42 | DEEPANSHI PAUL | 93.6 |
| 43 | MANVI ARORA | 93.4 |
| 44 | NAVYA | 93.4 |
| 45 | TANAY GAUR | 93.4 |
| 46 | CHANDNI MANCHANDA | 93.4 |
| 47 | BHAVISHYA HURIA | 93.4 |
| 48 | NIKITA SAHU | 93.2 |
| 49 | AYUSHI GOSWAMI | 93 |
| 50 | PRANJALI KALLANI | 93 |
| 51 | ADITI YADAV | 93 |
| 52 | SANYAM SINGHAL | 92.8 |
| 53 | ISHANT SACHDEV | 92.6 |
| 54 | NIKHIL NANDA | 92.6 |
| 55 | KUSHAGRA KALRA | 92.6 |
| 56 | SARTHAK SHARMA | 92.6 |
| 57 | PRASANG GUPTA | 92.6 |
| 58 | MOHAMMAD ADEEL QURESHI | 92.4 |
| 59 | MUKUL MANOCHA | 92.2 |
| 60 | GAUTAM ARORA | 92.2 |
| 61 | VAIBHAV RAWAL | 92.2 |
| 62 | LAVANYA KATHURIA | 92.2 |
| 63 | DEBANSHU CHANDA | 92.2 |
| 64 | BHAVYA KUMAR | 92.2 |
| 65 | JAYANT TANEJA | 92 |
| 66 | VISHAKHA CHADHA | 91.8 |
| 67 | KARTIK SHUKLA | 91.8 |
| 68 | TANISHA LAMBA | 91.8 |
| 69 | YUVRAJ SHRIDHAR | 91.6 |
| 70 | AYUSH SRIVASTAV | 91.6 |
| 71 | VAISHNAVI RAVICHANDRAN | 91.4 |
| 72 | MANYA GUPTA | 91.4 |
| 73 | DIPANSHU AGARWAL | 91.4 |
| 74 | GARIMA | 91.4 |
| 75 | MANSI GERA | 91.4 |
| 76 | PREET MEHTA | 91.2 |
| 77 | POOJA | 91.2 |
| 78 | PRANAV GOEL | 91.2 |
| 79 | PRATHAM GOYAL | 91.2 |
| 80 | DHRUV YADAV | 90.8 |
| 81 | KSHITIJ GUPTA | 90.8 |
| 82 | JAGREETI SAINI | 90.6 |
| 83 | ASHISH VERMA | 90.4 |
| 84 | VAIBHAV NARANG | 90.4 |
| 85 | ADITYA SHARMA | 90 |
Top Networking Online Courses
More Courses With Certification
Empower your team. Lead the industry
Get a subscription to a library of online courses and digital learning tools for your organization with EasyShiksha
Request Now
ALSO READ: Manav-rachna-international-school-students-soar-to-great
Get Course: Artificial-Intelligence-Online-Course