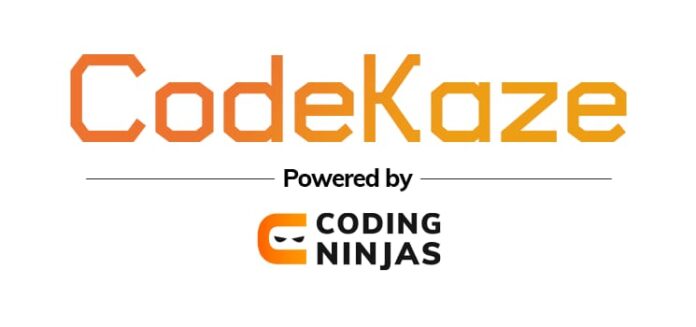 New Delhi, March 21, 2022: Coding Ninjas, India's leading platform in the ed-tech space to learn coding and secure placement assistance, is elated to announce the winners after the conclusion of its annual flagship event CodeKaze, which was in its fourth season this year.
With a total registration of 1,17,515 applications, the keenly contested competition witnessed participation from over 6,000 colleges spanning more than 95,000 students this year. Besides, over 17,000 professionals had also enrolled themselves for the competition.
Mayank Singhal and Manvitha Royal emerged as the winners of the competition that was held online on March 6, 2022 at 7 pm.
The competition which was hosted in partnership with Nasscom-Futureskills, pitched budding coders head-to-head against each other and was curated in a manner that saw participation from even those not proficiently familiar with coding.
Mayank Singhal, the winner of the first prize of Rs. 50,000 said, "The competition was intense yet healthy with an excellent variety of questions. My advice to future participants is to keep calm under pressure and exhibit proficiency over DP and Trees."
Ankush Singla, a mentor and co-founder at Coding Ninjas said, "I congratulate the winners and all participants for being a part of CodeKaze and performing with flying colors. Competitive coding and hackathons have been the main source of talent recognition amongst organizations to hire coders. At Coding Ninjas, we have not only been training the next-generation of talent but also happy to support the industry through pan-India competitions of such magnitude and intensity."
The competition also featured a 'Diva' segment which included a special package of winnings and career-oriented opportunities, exclusively for female coders to encourage participation from the aspiring female coder community. Manvitha Royal emerged as the Code Diva winner and won, Rs. 25,000.
With 100+ hiring partners like DailyHunt, CoinDCX and MediBuddy, the competition also proved to be a precursor for Coding Ninja to offer over 500 internships and full-time opportunities as software developers. Obviously, it also provided the participants with a competitive environment similar to that experienced while working for a top corporate house today.
Also read https://news.easyshiksha.com/film-actress-bhagyashree-felicitated-leaders-of-rajasthan/
Visit the link for Online Certification Courses and Internship Training Program at EasyShikha https://easyshiksha.com/